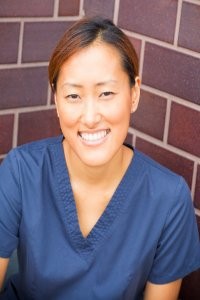 The fascination in Eastern Medicine began with her father concocting herbal remedies to treat ailments, practicing Koryo Hand Acupuncture, and prescribing dietary supplements in her home and in the community. Her firsthand experience being treated by Eastern Medicine was in high school with a compound of herbal and moxibustion therapy which allowed her to avoid surgery, and consciously live a healthier life. From that point forward, a passionate interest into the art of healing was established. She obtained her Bachelor's degree in Biology and Chinese Culture and Language from Emory University in Atlanta, Georgia. Afterwards, she completed her training at one of the largest Oriental Medicine schools in the nation in Anaheim, California where she received a Master's of Science in Oriental Medicine. While studying at South Baylo University with exceptional faculty, she completed her internship and externship at the school community clinics located in Los Angeles and Orange County. Additionally, she had participated in apprenticeships with several private practices to further training. After passing the California board and obtaining her license to practice, she has been serving the community of Beverly Hills, California under the umbrella of Cedar Sinai Health Associates, and a private group practice. Her experiences include treating celebrity clients, and participating in community health and wellness seminars. She has collaborated with other Eastern Medicine practitioners, DC, DO, MD, LMT, and other healers.
Her specialities include:
1. Neck, Shoulder, Low Back Pain – Musculoskeletal issues, Disc problems, Neuralgia, Migraine headaches, and Arthritis
2. Digestive Disorders – Colitis, IBS, and GERD
3. Stress and Anxiety Management – involving Insomnia and Depression
4. Facial Acupuncture (mei zen) – Bells palsy, Post-stroke rehabilitation
5. Fertility, Menstrual problems – PMS, PCOS, Menopausal symptoms
Sarah loves promoting wellness and health to her patients. She is a skilled and compassionate provider of Eastern Medicine. Modalities of Eastern Medicine includes: Acupuncture, Moxibustion, Cupping, Compound Herb therapy, dietary guidelines, breathing, and stress management.

"I have been seeing Sarah for Acupuncture for several years now. I had seen many acupuncturists at the office in Beverly Hills but Sarah was the best. Seeing her now in El Segundo is even better. She will spend the time she needs to help your individual needs. I have recommended her to a friend who also had a great experience with her."

"Just started with NA Wellness a few months ago and am very happy with everything. Dr. Sandford is caring and very skilled. He is friendly and really knows his stuff. I feel better than ever. Dr. Sarah Kim is amazing with acupuncture and the anti aging facial is really working!"

"Sarah is an EXCELLENT acupuncturist! Her technic is helping relieve my symptoms and is painless. I've only seen her a few times but have had a very positive experience."

"Sarah is the greatest. I never had acupuncture before but I am 12 weeks pregnant and suffering from the worst morning sickness and headaches ever. I am not scared of needles ( I have a bunch of tattoos) but I was nervous. She put me at such ease and asked all the questions related to my pregnancy I didn't even think of. The next day I felt NORMAL. Like I did before I got pregnant. I was so relieved. I am not one that likes medicine of any kind so I am happy I found a natural alternative. "

"I've been getting acupuncture here for months with Sarah. I'm a long-time acupuncture patient, and after moving to LA earlier this year needed a great acupuncturist. She's fantastic and opens blocks to get energy flowing with skill. Will be seeing her for some time to come."